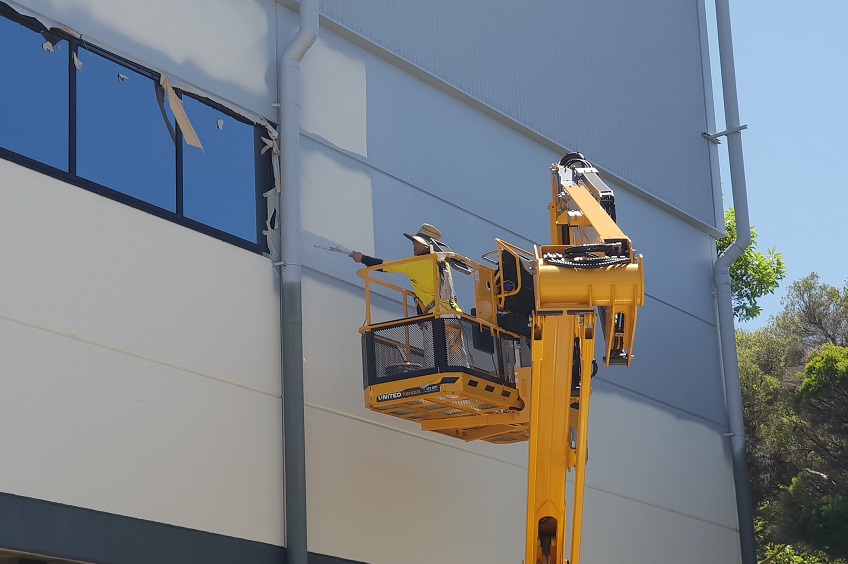 Common Commercial Painting Challenges
---
People tend to judge us by outer appearance, when your customers pull up in front of your commercial building its important that your building looks its best. An attractive commercial building tells consumers that your business is doing well! This will attract more customers to your business. This means regular maintenance to the exterior of your building.
Unfortunately, sometimes previous coats of paint can cause problems by peeling, cracking, or fading. Let's look at some very common issues King Painting Commercial painting resolves daily with our daily painting services for our clients.
Faded Paint
Faded paint gives your business or commercial building a tired look, which kills its curb appeal. Giving your building a fresh coat of paint can bring your building back to life, letting everyone around you know that you have pride in your commercial building.
It's important to choose a higher grade and more fade resistant paint can hold up to weather damage better than regular grade paints. Consulting with King painting about which type of paint is best can save your business money in the long range by creating an exterior that will look crisp and fresh for a long time.
Cracked or Blistered Paint
To the naked eye cracked and peeling paint seems to shout that owners of the building don't care about its appearance. The commercial painting specialist at King Painting can remove this cracked and peeling paint; then they take care to prepare the surface correctly to prevent cracking and blistering on your new coat of paint. Great preparation can be the very important first test in creating a new paint job that will last longer and still look attractive.
Mould or Mildew
Fungus tends to grow on the shady sides of the building, like alleyways where one building shades another. Mould grows on almost all surfaces and can stain the building surface beneath, making it a darker colour. The commercial painting team at King Painting have had over three decades dealing with mold problems. The team at King Painting completely removes the mold, then the area is treated. Then the space is repainted with mold resistant paint that helps keeps the mold at bay.
If it's time for your commercial building to have a fresh new appearance call King Painting Commercial Painters at 02 8860 6444​.  Over fifteen years of experience they proudly serve throughout Sydney and Suburbs, meeting all your commercial painting needs.
We will gladly offer solutions for your exterior problems to make your warehouse or manufacturing facility look fresh and new again. We also offer building painting services for larger groups of buildings, like industrial parks.
King Painting Commercial Painters proudly takes commercial painting to the next level by offering long term protection to our clients along with our painting service.
Contact us to speak with one of our highly trained commercial painters and schedule an appointment to receive a free inspection, consultation, and estimate of your project.
© Copyright 2019 King Painting Specialists Pty Ltd.