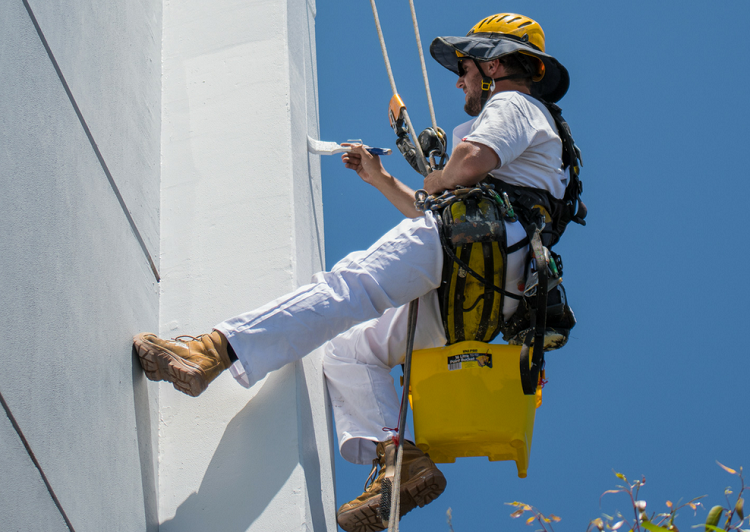 SYDNEY Abseiling Painting
King Painting Specialists Pty Ltd. is a trustworthy company that utilizes innovative and effective rope access techniques to provide a wide range of services. We specialise in difficult and high-level access works for building maintenance and repairs. Our professional team is committed to give you a fast and cost-effective alternative to scaffolding and powered access. We can often get the job done before the scaffolding is erected or the scissor lift arrives on site. Optimizing operational costs, increasing security .and reducing risks are high priorities for every single project!

SPEED
Rope access is definitely the fastest way of reaching difficult access areas when compared to scaffolding and stages. While erecting and dismantling a scaffolding can take hours or even days of work, the abseil…in less than one hour.

COST
Because there is no need to waste extra time and money to build the scaffolding or to hire industrial powered lifts, our quote can be focused on the task that needs to be performed.

ENVIRONMENT FRIENDLY
Our techniques and equipment allow us to accomplish the works with minimal environmental impact. Without the use of heavy machinery the level of noise and the exhaust fumes (Co2) emitted, are minimal or nonexistent.
All the factors mentioned above, combined with an efficient communication and coordination with project managers and customers, contribute to maintain safety, consistent workflow and customer satisfaction inside and outside the workplace.
The passion for what we do is reflected in our attitudes and in the way that we approach every project; therefore reaching costumer's expectations is our first priority. "Always open for challenging opportunities to develop long-term solutions, our team will work with you to deliver the project on time and to better suit your needs"
Our Abseiling Painting Services:

- Sydney CBD
- North Sydney
- Chatswood
- Artarmon
-Cammeray
-Castle Cove
-Castlecrag
-Chatswood
-Chatswood West
-Cremorne
-Cremorne Point.